Visit & Contact Information
Located in the heart of Amador County's Shenandoah Valley, Di Stasio Vineyards honors our Italian heritage by offering an authentic taste of Italy, inclusive of unique Italian wine varietals grown on the estate, as well as imported gourmet specialties and regional Italian ceramics. The winery is owned and operated by the Di Stasio family, whose ancestors have sustainably farmed the property since 1911.
The Di Stasio tasting room is open for tastings and food service Wednesday-Sunday from 11am-4:30 pm. We are also available for private events during other days and hours by appointment.
For more information, please contact us.
---
Tasting Room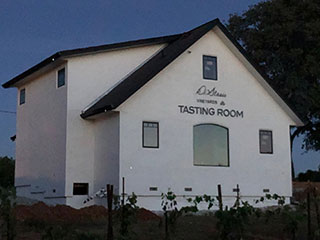 Our tasting room is inspired by clean, yet rustic colors and themes of Puglia in southern Italy.
A seamless indoor and outdoor space combined with the natural beauty of our historic location combine to offer a truly unique experience. A place to visit and relax in the heart of Amador County's Shenandoah Valley.
The tasting room offers estate wines, small plates and gourmet foods imported from Italy. On certain days we will also offer expanded food options. We've also incorporated regional Italian ceramics to appreciate during your visit which are also available for purchase.
Vineyard Tours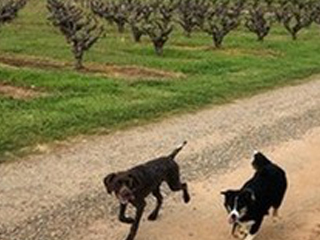 Our property has been family owned and farmed continuosly since 1911. A combination of old and new with vines dating back over 100 years. From peaches, walnuts and prunes to wine grapes, we have sustainably farmed the property throughout the decades.
When available, we would be happy to show you around the property and discuss the history of the Shenandoah Valley, the property and family and discuss the vineyards and farming practices.
For more information, please contact us at ciao@distasiovineyards.com or call (209) 256-1524
Contact
Hours:
Wednesday through Sunday
11 am to 4:30 pm
Tastings:
$10 per person, waived with a bottle purchase
Tasting Room:
10788 Shenandoah Road
Plymouth, CA 95669
Limos and tours by appointment only.
For large parties of 8 or more,
private events or special requests,
please contact us directly.
E-Mail:
ciao@distasiovineyards.com
or
Phone (Call or Text):
Social Media: