Our Family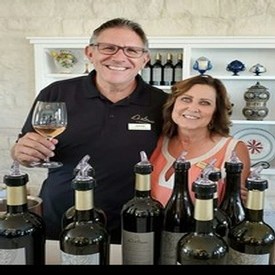 John & Michelle
Di Stasio
Owners
John and Michelle have farmed the property since 1993 continuing John's family tradition begun in 1911. John is a former electric utility executive and does energy policy work in Washington DC on behalf of 27 of the nation's largest consumer-owned utilities. John helps out in all aspects of the business. Michelle, a former IT professional and self-employed IT consultant, serves as the winery's General Manager, CFO and CIO responsible for overseeing all aspects of day to day management. John and Michelle's love of Italian travel, food, wine and ceramics give them the opportunity to blend their experience with the things they love. John and Michelle feel very fortunate to live in such a beautiful place in the heart of the Shenandoah Valley, reminiscent of Northern Itally surrounded by family and friends. It truly is a labor of love.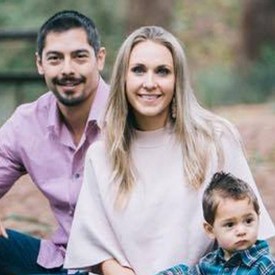 Joe & Rachae Vila
Owners
Son-in-law Joe and daughter Rachae met while attending California State University, Chico as student athletes pursuing their studies and mutual interest in lacrosse. Their friendship became a romance after graduation and they married in 2015. Joe has several years of experience in all aspects of construction management and currently works in Sacramento. Rachae completed her education in biology and chemistry. She worked as a group leader in research and developement at a biotech in the Bay Area. In 2016 they welcomed their son, JJ, and moved to Amador County. Joe continues to work in Sacramento, but helps out in the winery during harvest and crush when available. Rachae works as the assistant winemaker performing all of the associated lab work in the winemaking process.

Gary & Mary
Hoffman
Marketing and Social Media
Sister, Mary, and Brother-In-Law, Gary both attended CSU Sacramento and were college sweethearts. Gary has been in the electrical industry for over 34 years and has been the Director of Purchasing at the Redwood Electric Group since 2001 and a partner since 2008. Mary has been a staffing professional for over 30 years and currently oversees all the social media and on-line marketing for Di Stasio Vineyards and Wines. Gary & Mary currently live in the San Francisco Bay Area and enjoy weekend trips on their motorcycles, as well as, traveling with friends and family. Gary and Mary have been involved since day one bringing our family together and reconnecting Mary with her roots in Amador County.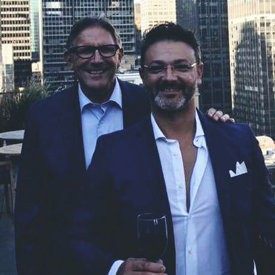 Gianluca Di Stasio

Partner, Di Stasio Importing
Gianluca Di Stasio is a native of Italy and currently lives in Ardea near Rome. He has a very strong background in retail and commercial sales management and extensive experience in Italian wines and foods. He works internationally for Fiourucci Foods, a premier salami and cured meat producer. He is a partner and advisor on on all of the food products that we import serve and sell in our tasting room. He has been a part of the Di Stasio Vineyards winery venture since the beginning and a frequent visitor to California and Amador County. We're fortunate to have this expertise in our family and have the ability to visit each other frequently.